According to the Swedish Tax Agency, 91 billion Swedish kroner is paid out every year in unpaid wages – and the construction industry accounts for the majority of these. There has been documented falsification of invoices and assignments.
Additionally, several workers experience uncertainty regarding employment and poor – even absent – HSE focus on the construction site.
Although employers and employees have somewhat different views on what causes these discrepancies, there is complete agreement that various forms of deviation are a threat to the entire sector.
Along with a number of governmental authorities, there has been established "Healthy competition in the building and construction sector".
A key aspect was to establish a mutual understanding of the current situation; what can be done, and what responsibilities do the different actors have. "Seven rules for healthy competition" was developed through an cooperative process, and was the basis for the discussion between company managers, trade unions, municipalities, state authorities, interest organisations, and the construction industry in general.
Specifique's mission was to tailor a dialogue basis that would work across different target groups and different contexts – and preferably be carried out without the support of consultants.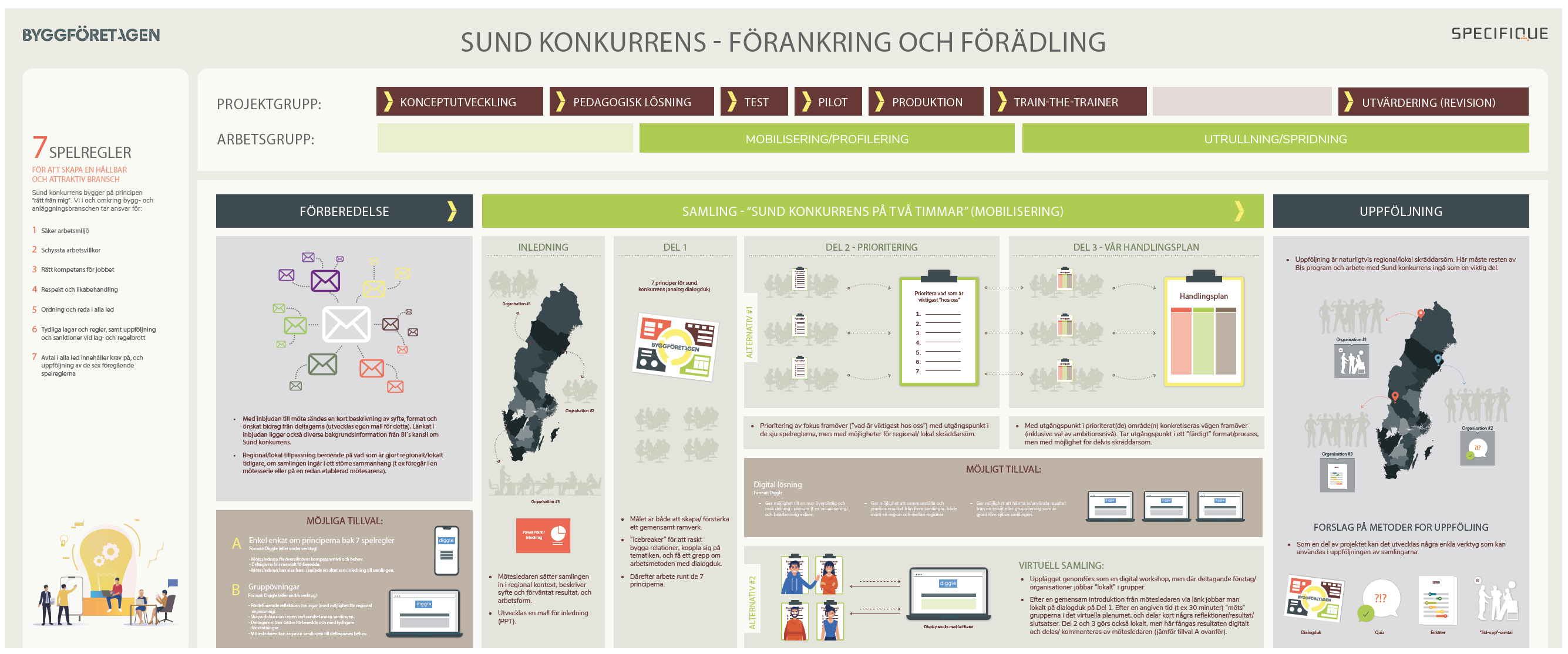 On the basis of a process map developed by Specifique, a number of supporting tools have been jointly developed.
Flexibility was an important aspect of the project, to ensure that the facilitator themselves could choose how they wanted to involve participants. For instance, some individuals preferred to have an internal discussion before meeting other actors in a common arena.
The developed Dialogue mat for the project functioned both as a framework for the internal dialogue, as well as a process tool when cooperating with other parties to develop concrete measures. Others choose to meet external parties first, to learn more about the perspectives and needs of colleagues and counterparties, before returning to their own arena and establishing how to further proceed.
A digital version of the dialogue mat has been created, which makes it possible to hold remote meetings. To ensure active reflection of each individual participant, a digital booklet with both background information and reflection tasks was made available. Slides, process guides, and layouts for specific action plans have also been developed.
An example of how the dialogue mat functions in practice is illustrated below:
Additionally, other versions of the dialogue basis have been created, based on films, slide shows and dilemma training, collected in a separate knowledge bank.
The feedback from both employers, trade unions and authorities is undividedly positive, and across the nation joint meetings are being held to ensure a continuous dialogue and common perspectives between the construction industry's various actors.